"Kiss Me, Stupid" quotes
(1964)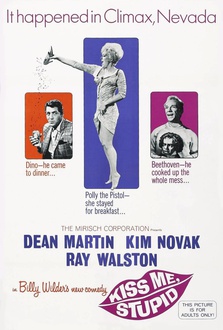 Title Kiss Me, Stupid
Year 1964
Director Billy Wilder
Genre Comedy, Romance

Plot – Orville, a piano teacher from Climax, is giving hospitality to a famous singer for one night and, in order to protect his wife from the attentions of his guest, decides to replace his wife with the docile waitress of the Belly-Button Café.
All actors – Dean Martin, Kim Novak, Ray Walston, Felicia Farr, Cliff Osmond, Barbara Pepper, Skip Ward, Doro Merande, Bobo Lewis, Tom Nolan, Alice Pearce, John Fiedler, Arlen Stuart, Howard McNear, Cliff Norton, Mel Blanc, Eileen O'Neill, Susan Wedell, Bern Hoffman, Henry Gibson, Alan Dexter, Henry Beckman, Sam, , Billy Beck, Gene Darfler, Laurie Fontaine, Kathy Garver, Joe Gray, James Jeter, Richard Reeves, Mary Jane Saunders
show all
"Kiss Me, Stupid" Quotes 4 quotes
"- Zelda Spooner: I suppose you have never heard of the Beatles either.
- Dino: Oh sure. And I can sing better than all three of them.
- Zelda Spooner: There are four of them!
- Dino: Oh, haven't you heard? One of them got his hair caught in his guitar and was electrocuted.
- Zelda Spooner: You can make jokes about them but they're young and..."

(continue)

(continue reading)




"Now look lady, you may have heard a lot of singers but you ain't heard nothin' sung till you've heard me sung it."

There was the one about this doctor, you see? He was examining a girl's knee and he says, "What's a joint like this doing on a pretty girl like you?".