"Quicksand" quotes
(2003)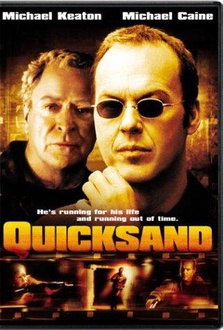 Title Quicksand
Year 2003
Director John Mackenzie
Genre Drama, Crime, Thriller

Plot – An executive of a New York bank travels to Monaco to investigate some suspicious accounts. There he meets a famous actor who has fallen into disgrace and is involved in criminal activities.
All actors – Michael Keaton, Michael Caine, Judith Godrèche, Rade Serbedzija, Matthew Marsh, Xander Berkeley, Kathleen Wilhoite, Rachel Ferjani, Elina Löwensohn, Clare Thomas, Hermione Norris, William Beck
show all
"Quicksand" Quotes 4 quotes
"How the hell am I supposed to get... my bloody money?"


"The sea keeps things in perspective, which is eay to lose."




- Jake Mellows: They forget who I am!
- Lela Forin: They know exactly who you are, Jake, a washed-up, desparate action man who doesn't know he's past his prime.
- Jake Mellows: Me! Past my prime! No actor is ever past his prime. Look, look at Jessica Tandy in "Driving Miss Daisy"!