"Metro" quotes
(1997)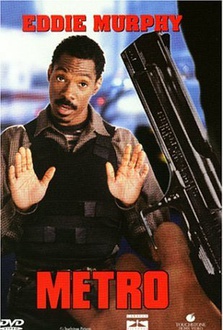 Title Metro
Year 1997
Director Thomas Carter
Genre Drama, Comedy, Crime, Thriller, Action

Plot – Scott Roper is the best kidnapping expert of San Francisco police department. He's sarcastic and has unorthodox methods. He's tasked to arrest Clarence, a deranged murderer who kills his colleague and best friend. Scott has now to catch him, but the murderer has many aces in the hole.
All actors – Eddie Murphy, Kim Miyori, Art Evans, James Carpenter, Michael Rapaport, Donal Logue, Jeni Chua, Dick Bright, David Michael Silverman, Denis Arndt, Frank Somerville, Malou Nubla
show all
"My eyes still hurt from reading that movie."

There's a saying in Naples: "When you think you're fucking them, they're fucking you".