"So Proudly We Hail!" quotes
(1943)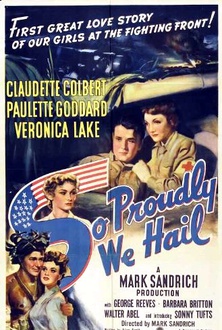 Title So Proudly We Hail!
Year 1943
Director Mark Sandrich
Genre Drama, Romance, War

All actors – Claudette Colbert, Paulette Goddard, Veronica Lake, George Reeves, Barbara Britton, Walter Abel, Sonny Tufts, Mary Servoss, Ted Hecht, John Litel, Hugh Ho Chang, Mary Treen
show all
"So Proudly We Hail!" Quotes 4 quotes
"I'm going to kill Japs. Every blood-stained one I can get my hands on! That doesn't sound nice coming from a nurse, does it? We're supposed to be angels of mercy, we're supposed to tend to the wounded and take care of the sick. We're supposed to be kind and tender and serve humanity in the name of humanity. What humanity? Dead humanity?"

- Lt. Olivia D'Arcy: Stop prying into things that don't concern you.
- Lt. Janet "Davy" Davidson: Maybe it does concern me. It concerns me that the morale of this group remains high. Until you joined up, it was. You're just a troublemaker.