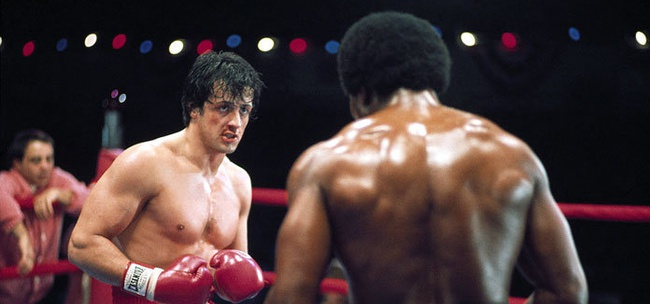 Most memorable quotes by Rocky Balboa
Robert Balboa, Sr., best known as Rocky Balboa, is an unconventional anti-hero, far from the stereotype of the great invincible champion.
On March 24th 1975, after witnessing the boxing match between the reigning world champion Muhammad Ali and a semi-unknown boxer, Chuck Wepner, Sylvester Stallonefinds the inspiration. He writes a first draft of the movie and creates the character of Rocky, whose story is inspired by Wepner during only three days.
From the movie: Rocky Balboa
"It ain't about how hard you hit. It's about how hard you can get hit and keep moving forward. How much you can take and keep moving forward. That's how winning is done!"
Sylvester Stallone - Rocky Balboa
From the movie: Rocky Balboa
"It's your right to listen to your gut, it ain't nobody's right to say no after you earned the right to be where you want to be and do what you want to do!"
Sylvester Stallone - Rocky Balboa
From the movie: Creed
"Time takes everybody out; time's undefeated."
Sylvester Stallone - Rocky Balboa
From the movie: Creed
"One step at a time. One punch at a time. One round at a time."
Sylvester Stallone - Rocky Balboa
From the movie: Creed
"You can't learn anything when you're talking."
Sylvester Stallone - Rocky Balboa
From the movie: Rocky Balboa
"The world ain't all sunshine and rainbows. It's a very mean and nasty place and I don't care how tough you are it will beat you to your knees and keep you there permanently if you let it."
Sylvester Stallone - Rocky Balboa
From the movie: Rocky IV
"Going in one more round when you don't think you can, that's what makes all the difference in your life."
Sylvester Stallone - Rocky Balboa
From the movie: Rocky II
"- Adrian: Do you know how to drive?
- Rocky Balboa: Do I know how to drive? I drive airplanes and bulldozers. I'll drive you crazy if you give me a chance. You know what I mean?"
Talia Shire - Adrian
Sylvester Stallone - Rocky Balboa
From the movie: Rocky III
"Nothing is real if you don't believe in who you are!"
Sylvester Stallone - Rocky Balboa
From the movie: Rocky V
"The only difference between a hero and a coward is the hero's willing to go for it."
Sylvester Stallone - Rocky Balboa
From the movie: Rocky
"You gotta be a moron... you gotta be a moron to wanna be a fighter."
Sylvester Stallone - Rocky Balboa
From the movie: Rocky
"- Adrian: Why do you wanna fight?
- Rocky: Because I can't sing or dance."
Talia Shire - Adrian
Sylvester Stallone - Rocky Balboa
You may also be interested in: