"Below" quotes
(2002)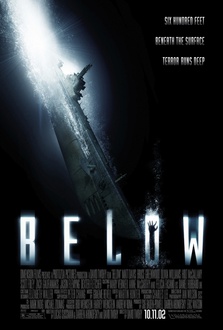 Title Below
Year 2002
Director David Twohy
Genre Horror, Thriller, Mystery

Plot – During the Second World War, American submarine "Tiger Shark" heads toward Connecticut after the hunting of some German submarines in the Atlantic Ocean. Three British sailors, victims of a shipwreck, are taken onboard, but the crew is then scared by a strange legend according to which a woman onboard could bring bad luck. Soon in fact the submarine cannot return on surface and the nurse starts asking odd questions about the recent death of the captain.
All actors – Matthew Davis, Bruce Greenwood, Holt McCallany, Dexter Fletcher, Nick Chinlund, Olivia Williams, Scott Foley, Andrew Howard, Christopher Fairbank, Chuck Ellsworth, Crispin Layfield, Jonathan Hartman
show all
- Brice: Try not to fraternize with the men. They can be a little... strange.
- Claire: Strange, as in superstitious?
- Brice: As in "strange".