"The Chronicles Of Riddick" quotes
(2004)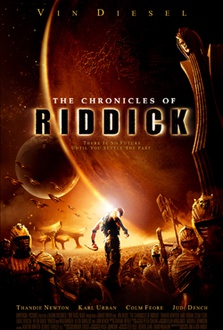 Title The Chronicles Of Riddick
Original title The Chronicles of Riddick
Year 2004
Director David Twohy
Genre Sci-Fi, Thriller, Adventure, Action

Plot – Riddick has spent five years traveling between forgotten worlds at the end of the galaxy, eluding mercenaries chasing the bounty on his head. Currently, the fugitive is on planet Helion, home to a multicultural society that has been invaded by Lord Marshal, a despot who goes in search of humans to subdue them with his troops of warriors known as Necromongers. Exiled to a subterranean prison where the temperature varies between Arctic nights and days with volcanic temperatures, Riddick encounters Kyra, the only survivor of a previous phase of his life. The effort to free himself and Kyra leads him to the Necromonger command ship, where he fights against Lord Marshal in an apocalyptic battle with the fate of all beings - both dead and alive - hanging by a thread.
All actors – Vin Diesel, Colm Feore, Thandie Newton, Judi Dench, Karl Urban, Alexa Davalos, Linus Roache, Yorick van Wageningen, Nick Chinlund, Keith David, Mark Gibbon, Roger R. Cross, Terry Chen, Christina Cox, Nigel Vonas, Shawn Reis, Fabian Gujral, Ty Olsson, Peter Williams, Darcy Laurie, John Mann, Adrien Dorval, Alexander Kalugin, Douglas Arthurs, Vitaly Kravchenko, Ron Selmour, Raoul Ganeev, Mark Acheson, Shohan Felber, Ben Cotton, Kim Hawthorne, Alexis Llewellyn, Charles Zuckermann, Andy Thompson, Cedric De Souza, Ahmad Sharmrou, Stefano DiMatteo, Mina E. Mina, John Prowse, Lorena Gale, Christopher Heyerdahl, Rob Daly, Michasha Armstrong, Aaron Douglas, Colin Corrigan, Kristin Lehman
show all
"The Chronicles Of Riddick" Quotes 20 quotes
"But why drive when you can get driven?"




"There is no future until we settle our past."




"There are inmates and there are convicts. A convict has a certain code. And he knows to show a certain respect. An inmate, on the other hand, pulls the pin on his fellow man."


Lesson learned. No such word as "friend". It can only end badly when you let someone get too close.


"This is your chance. Your chance to do what no man has ever done."

"The blade comes off when the bounty comes off."

"In normal times, evil would be fought by good. But in times like these, well, it should be fought by another kind of evil."




"If I owned this place and Hell, I'd rent this place out and live in Hell."

"First and always, I am a Necromonger commander. So if you're here to test my loyalty, you succeed only in testing my patience."


"- Riddick: You don't care if you live or die?
- Kyra: If I kill them first, not really."


"There's gonna be one speed: mine. If you can't keep up, don't step up. You'll just die."




"- Vaako: Remember your place Dame Vaako.
- Dame Vaako: My place is at your side dear husband."


"The more you resist, the greater the damage will be."




- Riddick: Remember that favorite game of yours?
- Kyra: "Who's the better killer?".
- Riddick: Let's play.