"Black Dog" quotes
(1998)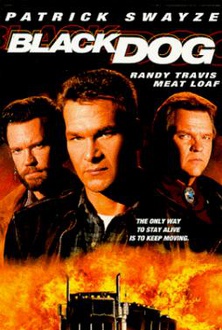 Title Black Dog
Year 1998
Director Kevin Hooks
Genre Drama, Crime, Thriller, Action

Plot – Jack Crews has served his sentence and now his wife and daughter wait for him. The man would really change his life for them, but the daily duties hurge him, so he participates to a mysterious plot, that is to drive a truck with an unknown cargo from Atlanta and to come back. Along the way, gangster Red tries to stop him, but Jack pretends to know the cargo's content to scare the bandit. Red's gang kidnaps his family and blackmails Crews, but the truck continues its journey to New Jersey and Jack eliminates one by one the rivals, until Red drives another track in a desperate attempt to chase Jack. The criminal's vehicle blows up and Jack's tranquility is finally granted.
All actors – Patrick Swayze, Meat Loaf, Randy Travis, Gabriel Casseus, Brian Kelly, Graham Beckel, Brenda Strong, Rusty De Wees, Cyril O'Reilly, Erin Broderick, Charles S. Dutton, Stephen Tobolowsky
show all
"Black Dog" Quotes 2 quotes
ATF - what does that stand for? "Alcohol, Tobacco and Fuck-ups?".