"The Long Kiss Goodnight" quotes
(1996)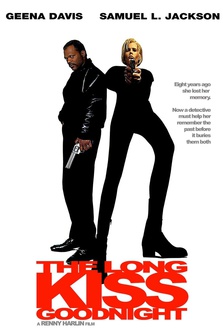 Title The Long Kiss Goodnight
Year 1996
Director Renny Harlin
Genre Drama, Crime, Thriller, Mystery, Action

Plot – Samantha Caine is a teacher and everyone knows she suffers from amnesia. Mick, a private detective, helps her to recover her past, until they find themselves into the middle of a conspiracy between the American Secret Service and an arm dealer. Actually, Samantha hasn't always been only a simple and quiet mom: in the past, she was known as Charly Baltimore, a secret agent involved in top secret government businesses.
All actors – Geena Davis, Samuel L. Jackson, Yvonne Zima, Craig Bierko, Tom Amandes, Brian Cox, Patrick Malahide, David Morse, Joseph McKenna, Melina Kanakaredes, Dan Warry-Smith, Kristen Bone
show all
"The Long Kiss Goodnight" Quotes 20 quotes
"- Nathan: Alice, please. Your dog, Alice. It and my appetite are mutually exclusive.
- Alice: Well, what's wrong with the dog?
- Nathan: Simple. He's been licking his asshole for the last three straight hours."


"Life is pain. Get used to it."




"- Unknown henchman: I'm hurt real bad. I think I'm dying.
- Timothy: Continue dying. Out."


"- Caitlin: I can't!
- Samantha Caine (Charly): Yes you can. You're one of the X-Men!"

"- Alley Agent: Good evening, pretty lady. How 'bout some company?
- Samantha Caine (Charly): No thanks. I'm saving myself 'til I get raped."


"You couldn't hit a lake if you were standing on the bottom."




"- Caitlin: Mommy, am I gonna die?
- Samantha Caine (Charly): Oh, no, baby, no. You're not going to die. They are."


"- Samantha Caine (Charly): Are you thinking what I'm thinking?
- Mitch Henessey: I hope not, 'cause I'm thinking how much my balls hurt."


"- Luke/Daedalus: Torture, yes, a woman's face never looked so quite beautiful as when it's distended in pain, witness the beauty of child birth.
- Samantha Caine (Charly): Untie me and I'll make any face you want.
- Luke/Daedalus: Let's not and say we did."


"I never did one thing right in my life, you know that? Not one. That takes skill."




"- Mitch Henessey: You're telling me that you're gonna fake some terrorist thing, just to scare some money out of Congress?
- Leland Perkins: Well, unfortunately, Mr. Hennessey, I have no idea how to fake killing 4,000 people - so we're just gonna have to do it for real. Blame it on the Muslims, naturally. Then I get my funding."


"- Mitch Henessey: How did you find us?
- Nathan: There may be many reasons not to kill you, but among them is not that you'll be missed by NASA. I found the address in your coat. Here. Between the address of a topless bar, and the picture of what looks like a man's penis.
- Mitch Henessey: That's a duck, not a dick."


"- Mitch Henessey: Jesus, old man, how many of those you got?
- Nathan: Three. One shoulder, one hip and one down here, right next to Mr. Wally, where most patdowns never reveal it, as even the most hardened federal agent is often reluctant to feel up another man's groin. Any other questions?
- Mitch Henessey: Yeah. What's the weather like on..."

(continue)

(continue reading)

"- Samantha Caine (Charly): What, are you a Mormon?
- Mitch Henessey: Yes, I'm a Mormon. That's why I just smoked a pack of Newport and drank three vodka tonics."


"- Samantha Caine (Charly): Easy, sport. I got myself outta Beirut once, I think I can get outta New Jersey.
- Mitch Henessey: Yeah? Well, don't be so sure. Others have tried and failed. The entire population, in fact."


"As the year draws to a close... I would like to share with you just a few things about myself, things of which I'm especially proud. First, I am proud to say that I don't smoke, I don't drink and I don't swear. Oh shit, I do smoke and drink. To our dear friends, may the best of your past be the worst of your future."

"- Samantha Caine (Charly): Were you always this stupid, or did you take lessons?
- Mitch Henessey: I took lessons."


Everyone knows... when you make an assumption, you make an ass out of "u" and "umption".