"Sniper" quotes
(1993)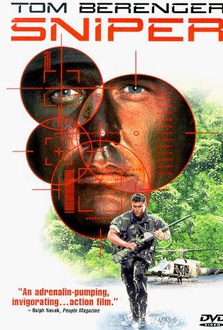 Title Sniper
Year 1993
Director Luis Llosa
Genre Drama, Thriller, War, Action

Plot – Tom Beckett is a sniper who eliminates thorny people in South America. After he loses a partner in a mission, Tom faces a new task with Richard Miller, a state officer and a sports shooting champion with no experience. Both have to kill Ochoa, a Colombian trafficker, and General Alvarez to foil their drug illegal trade. Miller and Beckett are helped by Cacique, a South American Indian who brings them to meet a priest who should inform them about Ochoa's position. During an ambush, the priest is killed and Miller and Beckett are surrounded. They run out of ammunitions and Beckett is captured by the rebels. Miller recovers a bullet and manages to free his partner. In the end Tom retires to Montana and abandons his career.
All actors – Tom Berenger, Billy Zane, J.T. Walsh, Aden Young, Ken Radley, Reynaldo Arenas, Gary Swanson, Hank Garrett, Frederick Miragliotta, Vanessa Steele, Carlos Álvarez, Tyler Coppin
show all
- Richard Miller: When the "rush" is over, it hurts. Doesn't it?
- Thomas Beckett: What you're feeling now ain't the worst pain. The worst thing is not feeling the hurt anymore.