"Whiplash " quotes
(2014)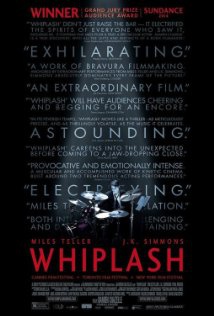 Title Whiplash
Original title Whiplash
Year 2014
Director Damien Chazelle
Genre Drama, Musical

Plot – Whiplash is a 2014 American psychological drama film. It tells the relationship between Andrew Neiman, a 19-year-old ambitious jazz drummer and Terence Fletcher, an abusive, perfectionist bandleader at the fictional and prestigious Shaffer Conservatory. Fletcher operates on fear and intimidation, and accepts and expects nothing less than perfection from his students. Andrew has to figure out what he is willing to sacrifice to be the best.
All actors – Miles Teller, J.K. Simmons, Paul Reiser, Melissa Benoist, Austin Stowell, Nate Lang, Chris Mulkey, Damon Gupton, Suanne Spoke, Max Kasch, Charlie Ian, Jayson Blair, Kofi Siriboe, Kavita Patil, C.J. Vana, Tarik Lowe, Tyler Kimball, Rogelio Douglas Jr., Adrian Burks, Calvin C. Winbush, Joseph Bruno, Michael D. Cohen, Jocelyn Ayanna, Keenan Henson, Janet Hoskins, April Grace, Clifton 'Fou Fou' Eddie, Marcus Henderson, Tony Baker, Henry G. Sanders, Sam Campisi, Jimmie Kirkpatrick, Keenan Allen, Ayinde Vaughan, Shai Golan, Yancey Wells, Candace Roberge, Krista Kilber, , Cici Leah Campbell, Damien Coates, Kyle Julian Graham, Ellee Jane Hounsell, Stephen Hsu, Herman Johansen, Wendee Lee, Dakota Lupo, Jesse Mitchell, Amanda Newman, Joseph Oliveira, Brandon Eugene Owens, Michelle Ruff, Tian Wang, Daniel Weidlein
show all
"Whiplash " Quotes 4 quotes
" I think being the greatest musician of the 20th century is anybody's idea of success."


There are no two words in the English language more harmful than "good job".