"Bright Lights, Big City" quotes
(1988)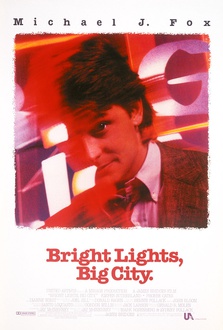 Title Bright Lights, Big City
Year 1988
Director James Bridges
Genre Drama

Plot – Jamie Conway is unhappy. He's abandoned by his wife and disappointed by life, so he takes refuge in cocaine and makes wrong friendships. His job worsens and he's fired. Then he meets Vicky. Fortunately she's different.
All actors – Michael J. Fox, Kiefer Sutherland, Phoebe Cates, Swoosie Kurtz, Frances Sternhagen, Tracy Pollan, John Houseman, Charlie Schlatter, David Warrilow, Dianne Wiest, Alec Mapa, William Hickey
show all
"Bright Lights, Big City" Quotes 2 quotes
"There's a certain shabby nobility in failing all by myself."


"Dead Amanda"! I told ya, you get more nookie than you can shake a fucking stick at if you just told people your wife was dead.