"Monkey Trouble" quotes
(1994)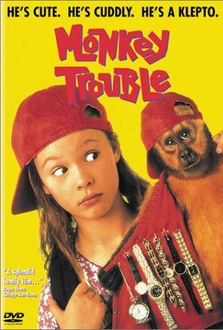 Title Monkey Trouble
Year 1994
Director Franco Amurri
Genre Comedy, Adventure, Family

Plot – Eva is a young girl who feels neglected and does not know when her little brother will arrive. She does not like anything until one day she finds a new friend. Her new friend is Dodger and it is a monkey. Eva and Dodger quickly become friends and have a great time together, but Eva realizes that Dodger has a strange talent: he is a perfect thief.
All actors – Finster, Thora Birch, Harvey Keitel, Mimi Rogers, Christopher McDonald, Adrian Johnson, Julian Johnson, Kevin Scannell, Alison Elliott, Robert Miranda, Victor Argo, Remy Ryan
show all
"Monkey Trouble" Quotes 1 quote
I am so not letting you eat lizards! From now on you are on a strict "no-yuck" diet.