"One Trick Pony" quotes
(1980)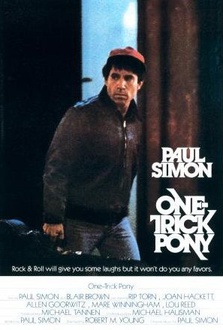 Title One Trick Pony
Original title One-Trick Pony
Year 1980
Director Robert M. Young
Genre Drama

Plot – Jonah is an older rocker that has never managed to break through. Despite the difficulties, he does not lack passion and continues to travel the United States with his band in a van, playing in small clubs to make ends meet. Meanwhile, his marriage is falling apart and the recordings of a new album turn out to be full of difficulties.
All actors – Paul Simon, Blair Brown, Rip Torn, Joan Hackett, Allen Garfield, Mare Winningham, Michael Pearlman, Lou Reed, Steve Gadd, Eric Gale, Tony Levin, Richard Tee
show all
"One Trick Pony" Quotes 4 quotes
- Jonah: Steatopygias.
- Cal van Damp: What?
- Jonah: Steatopygias. It means "rump", so whenever a fat-ass walks in the room... well, someone like you... you'd say, "Well, Cal, you're certainly steatopygias". It's better than fat-ass because you and anyone else wouldn't know what the fuck I'm talkin' about.


"The bigger the cushion, the sweeter the pushing."




"Jonah, you wouldn't by any chance be fucking my wife, would you? Because that wouldn't be conducive to a good artist-record company relationship."




- Jonah: What was I supposed to say? "Yes, Walter, I am sort of fucking your wife"?
- Lonnie Fox: Is that what we're doing, sort of fucking?