"Slow West" quotes
(2015)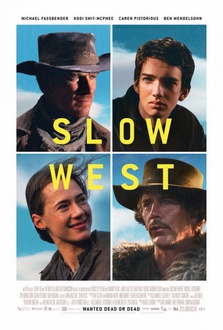 Title Slow West
Year 2015
Director John Maclean
Genre Thriller, Western, Action

Plot – In the 19th century during the American civil war, Jay Cavendish, a 17-year-old Scottish aristocrat, embarks on a journey in the far west, along the frontier, in search of his girlfriend. During the journey he meets Silas, a mysterious traveler.
All actors – Kodi Smit-McPhee, Michael Fassbender, Ben Mendelsohn, Aorere Paki, Hayden Frost, Caren Pistorius, Kieran Charnock, Edwin Wright, Joseph Passi, Andrew Robertt, Sam Manzanza, Tawanda Manyimo, Brian Sergent, David T. Lim, Karl Willetts, Bryan Michael Mills, Brooke Williams, Madeleine Sami, Eddie Campbell, Ken Blackburn, Jeffrey Thomas, Michael Whalley, Jon Cummings, Alex Macqueen, Kevin MacLeod, Stuart Martin, Evie Simon, George Simon, Rory McCann, James Martin, Tony Croft, Marian Leven, Margaret Starling, Ali Beag Macleod, Will Maclean, Kern Falconer, Stuart Bowman, Andy McPhee, David Maclean, Aaron McGregor, Kalani Queypo, , Erroll Shand
show all
"Slow West" Quotes 4 quotes
"A jackrabbit in a den of wolves - fortunate to be alive."

- Jay Cavendish: "Wanted Dead or Alive..."
- Silas Selleck: Dead or Dead, kid.