"Taxi" quotes
(2004)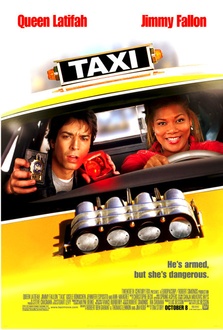 Title Taxi
Year 2004
Director Tim Story
Genre Comedy, Crime, Thriller, Action

Plot – Belle Williams dreams to become a car racing champion, but she has to be happy with the title of the fastest New York taxi driver by now. Belle has the opportunity to showcase her talent when she meets Andy Washburn, a police officer who hasn't a driving license and must chase a gang.
All actors – Queen Latifah, Jimmy Fallon, Henry Simmons, Jennifer Esposito, Gisele Bündchen, Ana Cristina de Oliveira, Ingrid Vandebosch, Magali Amadei, Ann-Margret, Christian Kane, Boris McGiver, Adrian Martinez, Joe Lisi, Bryna Weiss, GQ, Joey Diaz, Rick Overton, John Rothman, Mike Santana, Herman Chavez, Lou Torres, Sixto Ramos, Mario Roberts, Jamie Mahoney, Amanda Anka, John Duerler, Patton Oswalt, I.N. Sierros, Earl Schuman, William Cote, Riley G. Matthews Jr., Adam LeFevre, Kevin Carolan, Edward Conna, Victor Isaac, Ramon Fernandez, John Krasinski, Jay Spadaro, Shirell Ferguson-Coleman, Nashawn Kearse, Alli Danziger, Tanner Schwartz, Chris Brandt, Gelbert Coloma, Dita de Leon, Jeff Gordon, Frank Hopf, Mark Kubr, Jonathan Latroy, LeeAnn Powers, Marty Eli Schwartz, Heather Sullivan, Jessica Verdi
show all
"This is your unmarked car? A Daewoo? Man, I know people. I can't be seen in this thing. Open the door. I don't wanna get Daewoo on my hands."

"We've gotta play to your strengths. And thinkin ain't one of them."

"Men are like cats. We'll play with a ball of yarn, unless you want us to play with the ball of yarn. Trick is, hide the ball of yarn. But don't hide it where you can't find it."




"Every hero has a weakness. Superman has kryptonite. Indiana Jones has snakes. Whitney Houston has Bobby Brown... or vice-versa..."


- Andrew 'Andy' Washburn: Dad let go of the wheel and said: "You better steer or you're gonna kill the whole family".
- Mrs. Washburn: Yeah! It's good for you.
- Andrew 'Andy' Washburn: We where going 90, I was six!