"Terminal Velocity" quotes
(1994)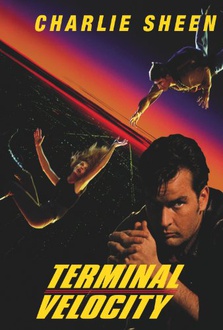 Title Terminal Velocity
Year 1994
Director Deran Sarafian
Genre Comedy, Romance, Thriller, Mystery, Action

Plot – Daredevil skydiver Ditch Brodie meets Chris Morrow, a young blonde who wants to make her first launch. The man is excited but the woman unfastens herself and precipitates to the ground. She's alive. Brodie discovers Chris is a skilled paratrooper too and a former KGB agent on a mission.
All actors – Charlie Sheen, Nastassja Kinski, James Gandolfini, Christopher McDonald, Gary Bullock, Hans Howes, Melvin Van Peebles, Suli McCullough, Cathryn de Prume, Richard Sarafian Jr., Lori Lynn Dickerson, Terry Finn
show all
"Terminal Velocity" Quotes 4 quotes
"For someone I've never slept with you sure fucked me pretty good."

- Chris Morrow: Well, I was trained to swallow all sorts of things.
- Richard "Ditch" Brodie: Careful, I might just have to marry you.


- Chris Morrow: Shoot!
- Richard "Ditch" Brodie: Ah, it's broken!
- Chris Morrow: The safety's on, you idiot!