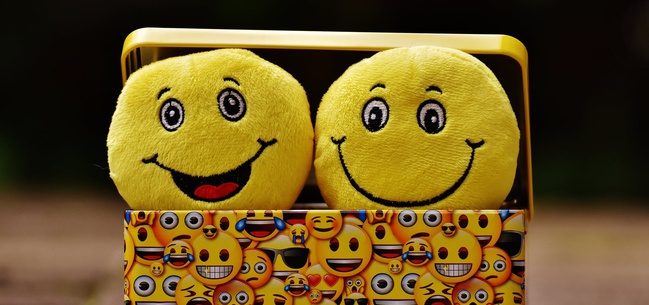 15 Movie Quotes about Happiness
If you're happy and you know it clap your hands!
What exactly is real happiness though? Sounds like an odd question, but is it? Do you really know when you're happy? What is your definition of true happiness and is it the same thing to you as it is to others? Why does it matter so much? Some may see it as a by-product of other, more important pursuits in life, while others think it is the end-goal for humans. The answers to these questions might be different, but regardless of which theory you embrace, one can learn to be happy by individual improvement.
From the animation: Trolls
"Poppy-Thank you!
Branch-No, thank you.
Poppy-For what?
Branch-For showing me how to be happy."
Anna Kendrick - Poppy
Justin Timberlake - Branch
From the TV Series: Orange Is the New Black
"I believe this world is a damaged place, and if you can find a sliver of happiness, stay in it as long as you can."
Samira Wiley - Poussey Washington
From the movie: Beauty and the Beast
"Can anybody be happy if they aren't free?"
Emma Watson - Belle
From the animation: Animal Crackers
"You're making people happy. That's no small thing."
Danny DeVito - Chesterfield
From the TV Series: The Crown
"That's the thing about unhappiness. All it takes is for something worse to come along and you realize it was actually happiness after all."
Imelda Staunton - Queen Elizabeth II
From the movie: Rebecca
"It's odd, isn't it? Some people seem perfectly happy alone, while others just need someone to pass the time with. It doesn't matter who."
Lily James - Mrs. de Winter
From the TV Series: Gossip Girl
"Whoever said money doesn't buy happiness didn't know where to shop."
Leighton Meester - Blair Waldorf
From the movie: The Sisters Brothers
"I must confess, that the very happiest moments of my life have been spent in the wilderness of the far west, with the plentiful supply of dry pine logs on the fire."
John C. Reilly - Eli Sisters
From the movie: 8½
"Happiness consists of being able to tell the truth without hurting anyone."
Marcello Mastroianni - Guido Anselmi
From the movie: Frozen II
"Did you know gorillas burp when they're happy?"
Josh Gad - Olaf
From the movie: War and Peace
"How can you be sure what will do harm to another man? Personally, I know of only two real evils in life: Remorse and sickness. And happiness is the absence of those two evils."
Vyacheslav Tikhonov - Prince Andrei Bolkonsky
From the movie: 45 Years
"It's funny how you forget the things in life that make you happy."
Charlotte Rampling - Kate Mercer
From the movie: John Tucker Must Die
I wish it could just be simple, like a retro pop song, "I want you to want me". Boom. End of story. We all live happily ever after. But it is never really like that, is it?
Brittany Snow - Kate
From the movie: A Simple Plan
"When I was still just a kid, I remember my father telling me what he thought that it took for a man to be happy. Simple things, really. A wife he loves, a decent job, friends and neighbors who like and respect him. And for a while there, without hardly even realizing it, I had all that. I was a happy man."
Bill Paxton - Hank
From the movie: Married Life
"I'm not at all certain that one can build happiness upon the unhappiness of someone else."
Pierce Brosnan - Richard Langley
You may also be interested in: