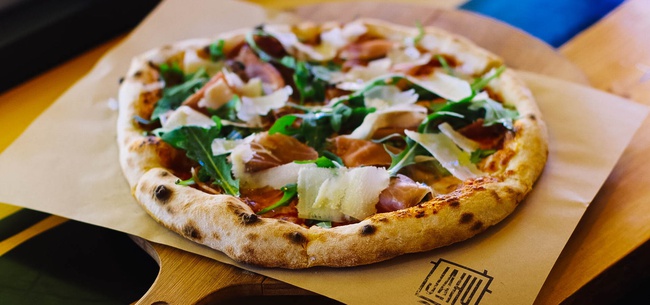 15 Movie Quotes about Pizza
15 qtes
–
December 6, 2021
Celebrating Pizza!
On this day in 2017, the culinary art of Neapolitan "Pizzaiuolo" was inscribed on the UNESCO Representative List of the Intangible Cultural Heritage of Humanity. So today let's celebrate one of the world's most popular fast food. According to a popular legend, the pizza Margherita, the most famous one, was allegedly created in honor of Italy's unification, with the three toppings—basil, mozzarella, and tomato—respectively representing the green, white, and red of the Italian flag and it was named after the Queen of Italy, Margherita of Savoy. Who knows if it's true. One thing we know: we love pizza!
From the movie: The Internship
"Zach, eyes off the pizza, mate. God made you lactose-intolerant for a reason, yeah? So fat. So fat."
Max Minghella - Graham Hawtrey
From the animation: Soul
"Don't miss out on the joys of life. Like, uh, Pizza."
Jamie Foxx - Joe
From the TV Series: How I Met Your Mother
"I wound up shame-eating the whole pizza. I woke up all greasy and sweaty. My sheets looked like what they wrap deli sandwiches in. Maybe I should join a gym. "
Josh Radnor - Ted Mosby
From the movie: 13 Hours
"Seriously guys. If the consoluate ordered a pizza it would've been there by now."
Pablo Schreiber - Kris 'Tanto' Paronto
From the movie: Homeward Bound II: Lost in San Francisco
"There's only one thing I know that could make this moment happier. In fact, I think I smell it coming up the driveway right now. Can it be? Yes, yes I think it is. It's pizza!"
Michael J. Fox - Chance
From the movie: Beverly Hills Cop
"I never been in no cell that had a phone in it. Can I stay for a while, 'cause I ordered some pizza."
Eddie Murphy - Axel Foley
From the movie: Star 80
"- Snider: If you like Italian food, I know a real knock-out place. I'll take you tomorrow night.
- Dorothy Stratten: I like pizza.
- Snider: Well, this is Northern Italian. Three stars."
Eric Roberts - Paul Snider
Mariel Hemingway - Dorothy Stratten
From the movie: Leprechaun 2
"Nothing tastes as good as a free pizza. Now if I could only figure out how to get free beer."
Sandy Baron - Morty
From the movie: Dancin' Thru the Dark
"- Winker: Wanna come back to my place?
- Maureen: What for?
- Winker: A fuck and a pizza.
- Maureen: Is it a wholemeal pizza?"
Paul Netterfield - Winker
Angela Clarke - Maureen
From the animation: WALL-E
"This is called farming! You kids are gonna grow all kinds of plants! Vegetable plants, pizza plants."
Jeff Garlin - Captain
"- Pizza Delivery Guy: This is some place, huh? Is it haunted?
- Emery Waterman: Yeah. By the ghosts of delivery men who asked too many stupid questions and never escaped."
Stephen King - Pizza Delivery Guy
Matt Ross - Emery Waterman
From the movie: Fallen
"If it wasn't for pizza and other fine Italian foods, there would be no happiness."
John Goodman - Jonesy
From the movie: Lucas
"If you're so depressed, how come you're eating pizza?"
jealously talking to Cappie, who's planning to eat pizza with Maggie
Corey Haim - Lucas
From the movie: Teenage Mutant Ninja Turtles II: The Secret of the Ooze
- Michaelangelo: Ah, ninja pizza!
- Donatello: "Ninja pizza"?
- Michaelangelo: Pizza that vanish quickly without trace!
Michelan Sisti - Michaelangelo
Leif Tilden - Donatello
From the movie: Threesome
"Sex is kinda like pizza. When it's bad, it's still pretty good."
Stephen Baldwin - Stuart
You may also be interested in: