"Charlie Chan at the Race Track" quotes
(1936)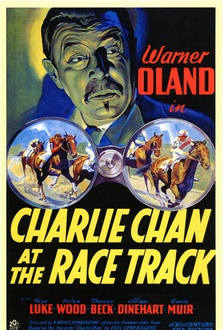 Title Charlie Chan at the Race Track
Year 1936
Director H. Bruce Humberstone
Genre Comedy, Crime, Thriller, Sport, Mystery

Plot – Private detective Charlie Chan has to uncover the death of a wealthy racehorses breeder. Many stables are ruled by an organized crime network.
All actors – Warner Oland, Keye Luke, Helen Wood, Thomas Beck, Alan Dinehart, Gavin Muir, Gloria Roy, Jonathan Hale, G.P. Huntley, George Irving, Frank Coghlan Jr., Frankie Darro
show all
"Charlie Chan at the Race Track" Quotes 7 quotes
"You lose before race start."

"Man who flirt with dynamite sometime fly with angels."


"- Police Chief: Charlie, you've a very suspicious mind.
- Charlie Chan: Suspicion often father of truth."


"Rabbit run very fast, but sometimes turtle win race."




"Truth sometimes like stab of cruel knife."


Confucius say: "No man is poor who have worthy son".