"Fantasia 2000" quotes
(1999)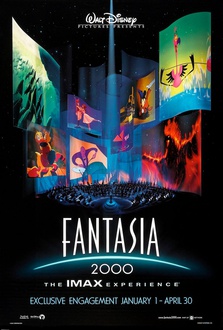 Title Fantasia 2000
Original title Fantasia/2000
Year 1999
Directors James Algar, Gaëtan Brizzi, Paul Brizzi, Hendel Butoy, Francis Glebas, Eric Goldberg, Don Hahn, Pixote Hunt
Genre Comedy, Music, Family, Fantasy, Animation

All actors – Steve Martin, Itzhak Perlman, Quincy Jones, Bette Midler, James Earl Jones, Penn Jillette, Teller, James Levine, Angela Lansbury, Wayne Allwine, Tony Anselmo, Russi Taylor
show all
"Fantasia 2000" Quotes 4 quotes
"You may not know this, but over the years, the Disney artists have cooked up dozens of ideas for new Fantasia segments. Some of them made it to the big screen this time. But others, lots of others - how could I put this politely - didn't."




You're at home, hosting a birthday party for your daughter, and you've just shelled out 50 bucks so some pathetic loser can pull a mangy rabbit out of a flea market hat. At first, you might wonder to yourself "How did he do that?". But then you would probably just dismiss it as some sort of a trick. And you know something? You'd be right! It's...

(continue)

(continue reading)




"First, there's the kind that tells a definite story. Then there's the kind, that while it has no specific plot, does paint a series of more or less definite pictures. Then there's a third kind, music that exists simply for its own sake. Now, the number that opens our Fantasia program is music of this third kind."

Walt Disney described the art of animation as a voyage of discovery, into the realms of color, sound, and motion. The music from Igor Stravinsky's ballet "The Firebird" inspires such a voyage.