"American Flyers" quotes
(1985)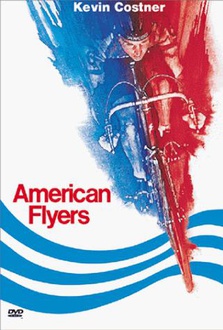 Title American Flyers
Year 1985
Director John Badham
Genre Drama, Sport

All actors – Kevin Costner, David Marshall Grant, Rae Dawn Chong, Alexandra Paul, Janice Rule, Luca Bercovici, Robert Townsend, John Amos, Doi Johnson, John Garber, Jennifer Grey, James Terry
show all
"American Flyers" Quotes 3 quotes
"How can you be sick? You have a mustache."

"- Woman Reporter: It's a big day for American cycling, to have two Americans beat an Olympic champ. You must feel some pride.
- Jerome: Come on man, walk it off.
- Muzzin: No, no, I'm alright. OK. I'm not riding for America lady. I tried riding for America. I spent four years of my life working shitty jobs so I could train and make the Olympic..."

(continue)

(continue reading)




- Marcus Sommers: What are you doing now Davy?
- David: "I'm studying eastern philosophy and cowboy movies. The ying, the yang and the bang bang"!