"The Karate Kid III" quotes
(1989)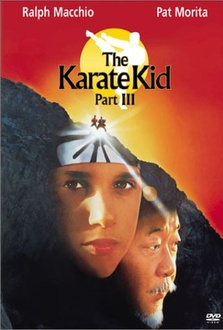 Title The Karate Kid III
Original title The Karate Kid, Part III
Year 1989
Director John G. Avildsen
Genre Drama, Sport, Family, Action

Plot – Daniel La Russo became a karate champion after the final battle against the "mean" Kreese. Once back to Okinawa, he rejects the idea to enroll at university to use the money to make the dream of his "master" Miyagi come true: he wants to build a laboratory for the cultivation of bonsai. However, the quiet life of Daniel is soon threatened by the wicked Mike Barnes, a tough guy secretly hired by the billionaire Terry Silver to avenge the defeat of his close friend and fellow soldier Kreese. He claims to challenge La Russo in a savage karate championship. Miyagi refuses to train Daniel, because he thinks that the defense of the title isn't a quality of karate. Daniel accepts to be trained by Silver, who disguises himself. Realizing the absurdity of the new and raw fighting strategies and becoming aware that Silver, Barnes and Kreese are organizing his defeat, Daniel goes back to Miyagi, who decides to train him to make him win in the final battle.
All actors – Ralph Macchio, Pat Morita, Robyn Lively, Thomas Ian Griffith, Martin Kove, Sean Kanan, Jonathan Avildsen, Randee Heller, William Christopher Ford, Pat E. Johnson, Rick Hurst, Frances Bay, Joseph V. Perry, Jan Tríska, Diana Webster, Patrick R. Posada, C. Darnell Rose, Glenn Medeiros, Gabriel Jarret, Doc Duhame, Randell Dennis Widner, Raymond S. Sua, Garth Johnson, E. David Tetro, Helen Lin, Meilani Figalan, Rob Garrison, Chad McQueen, Tony O'Dell, William Zabka, John Timothy Botka, Sandy Shimoda
show all
"The Karate Kid III" Quotes 28 quotes
"If karate used defend honor, defend life, karate mean something. If karate used defend plastic metal trophy, karate no mean nothing."


"- Daniel: Mr. Miyagi, it's over! It's over! Forget about it!
- Miyagi: No! No!
- Daniel: I'm afraid! Let's just get out of here! I just wanna go home!
- Miyagi: No, get up! Get up! Must not! It's ok to lose to opponent. Must not lose to fear!
- Daniel: Yeah, well, I'm afraid! I'm afraid of him, all right? What do you want me to do?
- Miyagi: You..."

(continue)

(continue reading)




"- Daniel: Mr. Miyagi, extreme situations require extreme measures. Okay?
- Miyagi: Oh, Daniel-san, that not sound like you talking."

"- Daniel: Will it be okay?
- Miyagi: Depend if root's strong."

"Hope confusion end soon, Daniel-san. Miyagi heart empty without you."


"I love it when he pounds him!"

"You know, this is the 80s, Mr. Miyagi. You can't be so damn passive!"




"Remember the game plan. First you win a point, then you lose a point. Keep the score at zero-zero. Pulverize him for the full three minutes. Then in sudden death you get the point, we win. I want him to experience pain. First he suffers."


"- Terry: So what do you think?
- Margaret: Oh, he's obnoxious.
- Terry: Yeah. He's perfect."

"- Daniel: I know you don't believe in fighting, but tournament karate isn't exactly fighting.
- Miyagi: Not exactly ping-pong, either."


"A man can't breathe, he can't fight."


"Mr. Silver, you just bought yourself a champion."

"A man can't see, he can't fight."


"- Miyagi: Inside you same place you karate come from.
- Daniel: My karate comes from you.
- Miyagi: Ah. Only root karate come from Miyagi. Just like bonsai choose own way grow because root strong you choose own way do karate same reason.
- Daniel: I do it your way.
- Miyagi: Hai. One day you do own way."


"- Terry: You think this is the end of it, old man? I'm gonna open Cobra Kai dojos all over this Valley. Hell, I might even teach for free! From now on, all that anyone will know about is Cobra Kai karate. John Kreese's karate. You won't even be a memory!
- Daniel: Yes, he will. You won't."

"A man can't stand, he can't fight."


"Now the real pain begins, Danny-boy."




"This is even funnier than I anticipated."

"You know the rules. Light contact to the body, and I do mean light, Barnes."




I've always lived my life by the rule: "If you get, you give". For the last twenty years I've gotten from karate. I've gotten discipline, health, self-confidence, inner peace, everything that makes me what I am today. And today it's time for me to give back.