"The Karate Kid" quotes
(1984)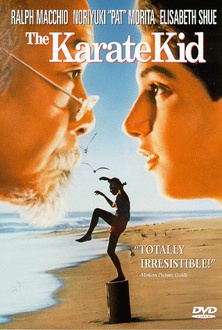 Title The Karate Kid
Year 1984
Director John G. Avildsen
Genre Drama, Sport, Family, Action

Plot – Daniel - an american teenager who has lost his father - moves together with his mother to San Fernando Valley where she has found a new job. After a long journey, they stay in a shabby residence which is quite distant from school. Furthermore, he's mocked by his classmates, a bunch of rich guys. Amog them there are the "Cobra" members, a group of Karate students. When Daniel meets Miyagi, an old Japanese who lives in his residence, he overcomes all the difficulties thanks to his precious friendship and most of all to his Karate training.
All actors – Ralph Macchio, Pat Morita, Elisabeth Shue, Martin Kove, Randee Heller, William Zabka, Ron Thomas, Rob Garrison, Chad McQueen, Tony O'Dell, Israel Juarbe, William Bassett, Larry B. Scott, Juli Fields, Dana Andersen, Frank Burt Avalon, Jeff Fishman, Ken Daly, Tom Fridley, Pat E. Johnson, Bruce Malmuth, Darryl Vidal, Frances Bay, Christopher Kriesa, Bernie Kuby, Joan Lemmo, Helen Siff, Larry Drake, David Abbott, Molly Basler, Brian Davis, David De Lange, Erik Felix, Peter Jason, Todd Lookinland, Clarence McGee Jr., William Norren, Sam Scarber, Scott Strader, Chris Casamassa, Tom Levy, Andrew Shue
show all
"The Karate Kid" Quotes 18 quotes
"- Lucille: Look at those palm trees. Damn! You know what that means?
- Daniel: Yeah. Watch out for falling coconuts."


"Wax on, right hand. Wax off, left hand. Wax on, wax off. Breathe in through nose, out the mouth. Wax on, wax off. Don't forget to breathe, very important."

"Make block. Left, right. Up, down. Side, side. Breathe in, breathe out. And no scare fish."

"- Daniel: You're the best friend I've ever had.
- Miyagi: You... pretty okay, too."


"- Daniel: How did you do that? How did you do that?
- Miyagi: Don't know. First time."

"- Miyagi: Man who catch fly with chopstick accomplish anything.
- Daniel: Ever catch one?
- Miyagi: Not yet."


"- Daniel: All right, so what are the rules here?
- Miyagi: Don't know. First time you, first time me.
- Daniel: Well, I figured you knew about this stuff. I figured you went to these before. Oh great, I'm dead. I am dead. You told me you fought a lot.
- Miyagi: For life, not for points."

- Miyagi: Banzai!
- Daniel: [totally confused] To baby trees.
- Miyagi: Not bonsai, "banzai"!