"Commandments" quotes
(1997)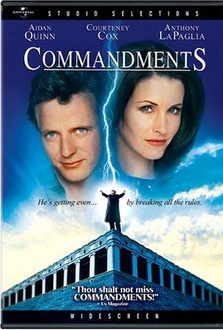 Title Commandments
Year 1997
Director Daniel Taplitz
Genre Drama, Comedy, Romance

All actors – Aidan Quinn, Courteney Cox, Anthony LaPaglia, Shirl Bernheim, Peter Jacobson, Patrick Garner, Marcia DeBonis, Pamela Gray, Lisa Louise Langford, Chris McGinn, Louis Zorich, Scott Sowers
show all
"Commandments" Quotes 5 quotes
"- Rudy Warner: Who among us knows the way of the Lord?
- Seth Warner: I have a theory. He's a raving psychotic."


"The story has it all - death, sex, and God."

"I break 5 or 6 commandments every day before lunch."


Is God willing to prevent evil, but just not able? Then, he can't be omnipotent, right. Or is he able, but not willing? Then he must be malevolent. Or, is he neither able nor willing? In which case, why do we call him "God"? Why indeed? Why?