"The Fighting 69th" quotes
(1940)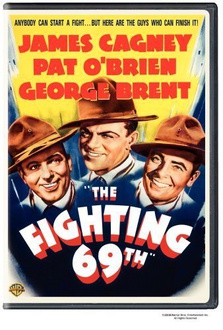 Title The Fighting 69th
Year 1940
Director William Keighley
Genre Action, Adventure, Biography, Drama, History, War

Plot – During World War I, when the United States decide to intervene in the conflict, many young people want to join the military. Among them there is a young braggart who, with his presumption, with his derogatory ways and with his lack of discipline, makes himself disliked by all. The only one who looks on him with benevolent understanding is the chaplain, Father Duffy. When the Americans reach The Front, the loudmouth proves to be a coward who, with his unruliness and his cowardice, causes the death of his comrades. A refusal to obey in face of the enemy leads him before a military court that sentences him to death by firing squad. While he awaits his execution, in the company of the chaplain, a bombardment opens the doors of the prison. Under the influence of the circumstances, the man undergoes an extraordinary change: impervious to danger, he runs toward the front line under mortar-fire and breaks through the enemies' barriers, opening the way for American troops, who he thus manages to save from a dangerous situation. Shot to death, he will die peacefully, in the company of his captain and Father Duffy.
All actors – James Cagney, Pat O'Brien, George Brent, Jeffrey Lynn, Alan Hale, Frank McHugh, Dennis Morgan, Dick Foran, William Lundigan, Guinn 'Big Boy' Williams, Henry O'Neill, John Litel
show all
"The Fighting 69th" Quotes 4 quotes
"In the next war there's gonna be three guys missing - me and the two guys that are chasing me."


- Jack O'Keefe: That guy hates himself.
- Sgt. "Big Mike" Wynn: Well, that makes it unanimous.