"The Glass Menagerie" quotes
(1987)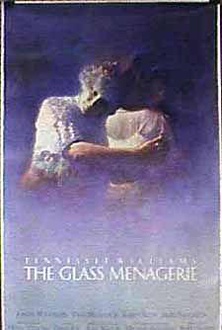 Title The Glass Menagerie
Year 1987
Director Paul Newman
Genre Drama

Plot – After years of traveling, Tom Wingfield returns to Saint Louis to the abandoned and dilapidated house where he once lived with his mother and sister. He then starts to remember his life as a young man with an unfulfilling job in a shoe warehouse and the obsessive sermons of his mother Amanda. Once wealthy and admired, Amanda had been abandoned with their young children by her husband and was pathologically worried for the future of her older daughter Laura, who had always been troubled because she was lame. Neurotic Amanda pestered her children, turning her morbid love for them into a true psychological persecution. Tom, who enjoyed writing poetry, rebelled against her attitude and frequently quarreled with her, even if in the end it was always him to apologise to his mother. Laura instead remained closed in her monotonous life. She quit school and a typing course: her only occupation was collecting tiny glass animals and listening to old records. Amanda wanted her daughter to find a man who would love her and assure her future. So she resolutely asked Tom, who tried to escape his dissatisfaction by hiding for hours in movie theaters, to find a boyfriend for his sister. Thus one evening Tom invited Jim, a high school friend and co-worker who Laura had a crush on, home for dinner. A lot of excitement preceded the event. When Jim arrived with Tom, Laura was initially very embarrassed, but left alone with the young man he overcame her distrust and the two began to talk without problems. She opened up, revealing her fears, and he listened with interest to her confidences and tried to make her feel good about herself. However, Jim realized that Laura was looking ecstatically at him and he honestly confessed to her that he was soon to be marry to Betty and that he and Laura could only be friends. Laura then fell back to her usual self and before he left forever she gave him a tiny glass animal. Once she overcame the shock of learning the news, Amanda bitterly reproached Tom for not having chosen the right man for his sister. Offended and humiliated once again by his mother, Tom left never to return, but crushed by the remorse of his action.
All actors – Joanne Woodward, John Malkovich, Karen Allen, James Naughton
show all
"The Glass Menagerie" Quotes 3 quotes
"- Amanda Wingfield: Rise and shine! Rise and shine!
- Tom Wingfield: I will rise but I will not shine..."


"You are the only young man that I know of who ignores the fact that the future becomes the present, the present becomes the past, and the past turns into everlasting regret if you don't plan for it!"


Every morning that you come in, yelling that goddamned "Rise and shine, rise and shine", I think to myself, how lucky dead people are.