"Queens Logic" quotes
(1991)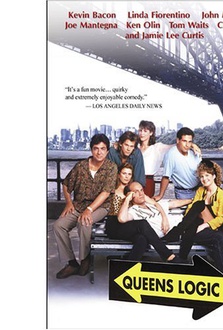 Title Queens Logic
Year 1991
Director Steve Rash
Genre Drama, Comedy

All actors – Kevin Bacon, Linda Fiorentino, John Malkovich, Joe Mantegna, Ken Olin, Tony Spiridakis, Tom Waits, Chloe Webb, Jamie Lee Curtis, Michael Zelniker, Kelly Bishop, Terry Kinney
show all
"Queens Logic" Quotes 7 quotes
"- Jeremy: Why do you keep running away from me? There's nothing to be afraid of.
- Eliot: I know that. I'm not running away from you. I don't like you. I don't like what you say, and I don't like the way you talk about my friends. I know what you're thinking: here is this poor, repressed faggot from the boroughs who needs to get laid, and you..."

(continue)

(continue reading)




"- Al: Hey, Den, can you smell me from over there?
- Dennis: We can always smell you, Al.
- Al: Fuckin' fish. No wonder this cat wants to blow me."

- Al: Come on, what do I gotta do?
- Patricia: You could crawl through broken glass on your hands and knees with a sign on your back that says "asshole". That might get you in the door.