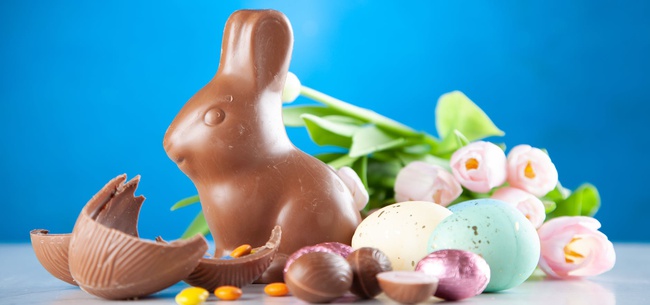 15 Movie Quotes about Chocolate
Happy Easter to everyone!
Did you already devour your chocolate bunny? Feeling a little bit guilty now? You shouldn't. Everybody loves chocolate! Every time you pop a little piece of chocolate in your mouth and it's starts to melt, the chemicals that it contains start to give you that pleasant "high" which is often equated to the feeling of being in love, in other words a true moment of ecstasy. It also contains chemicals that lower the risk of cancer and heart disease. So there you go. No more guilt. Grab another bite!
From the movie: Fatso
"Did you ever suck the jelly out of a jelly doughnut and then fill it with chocolate swirl ice cream?"
Richard Karron - Sonny
From the movie: Terror Firmer
"Do you want some chocolate? I didn't think so. I eat this stuff all the time. White chocolate, dark chocolate. Of course I eat dark chocolate with meat and white chocolate with fish."
Joe Fleishaker - Jacob Gelman
From the movie: Better Than Chocolate
"I read a study and after the age of forty a woman's chances of having sex are diminished by eighty percent. So, after fifty, God help you. And since I probably won't be having sex again, chocolate is the only pleasure left for me."
Wendy Crewson - Lila
From the movie: The Art of the Steal
"- Nicky Calhoun: I'm Nicky. Paddy, Francie, Crunch.
- Ponch: Some shitty aliases, you all sound like chocolate bars. Where is Twix?"
Matt Dillon - Nicky Calhoun
Devon Bostick - Ponch
From the movie: The Legend of Billie Jean
"- Putter: Billie Jean, I don't feel so good.
- Billie Jean: I wonder why, you only ate 12 Kit-Kats."
Yeardley Smith - Putter
Helen Slater - Billie Jean
From the movie: What a Girl Wants
"- Henry Dashwood: You like Co-co Puffs?
- Daphne Reynolds: It's chocolate! Need I say more?"
Colin Firth - Henry Dashwood
Amanda Bynes - Daphne Reynolds
From the movie: The Next Karate Kid
"- Julie Pierce: I wish I had courage like you.
- Miyagi: I wish I had chocolate bar with almonds."
Hilary Swank - Julie Pierce
Pat Morita - Miyagi
From the movie: Better Than Chocolate
"- Paul: Are you sure you like boys?
- Carla: Soft centers, hard centers. I like all the chocolates in the box."
Kevin Mundy - Paul
Marya Delver - Carla
From the movie: Grown Ups
"- Lenny Feder: Wasted is when you have a hankering for ice cream.
- Donna Lamonsoff: I want to get wasted every day of my life.
- Becky Feder: I want to get chocolate wasted."
Adam Sandler - Lenny Feder
Ada-Nicole Sanger - Donna Lamonsoff
Alexys Nycole Sanchez - Becky Feder
From the movie: Charlie and the Chocolate Factory
"Did you guys know that chocolate contains a property that triggers the release of endorphins? Gives one the feeling of being in love."
Johnny Depp - Willy Wonka
From the movie: Party Monster
"- James St. James: I know what you need. A nice hot cup of hot chocolate.
- Michael Alig: Can you put some ecstasy in mine?"
Seth Green - James St. James
Macaulay Culkin - Michael Alig
From the movie: Willy Wonka & the Chocolate Factory
"No other factory in the world mixes its chocolate by waterfall. But it's the only way if you want it just right."
Gene Wilder - Willy Wonka
From the movie: Go Tell the Spartans
"I am your friend. I have chocolate."
Craig Wasson - Cpl. Stephen Courcey
From the movie: The Doctor
"I pray. I meditate. I eat chocolate. I dance."
talking about what she does to feel better
Elizabeth Perkins - June Ellis
From the movie: The Devil's Advocate
"- Kevin Lomax: What about love?
- John Milton: Overrated. Biochemically no different than eating large quantities of chocolate."
Keanu Reeves - Kevin Lomax
Al Pacino - John Milton
You may also be interested in: