"Basic Instinct 2" quotes
(2006)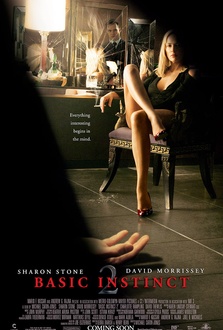 Title Basic Instinct 2
Year 2006
Director Michael Caton-Jones
Genre Crime, Horror, Thriller, Mystery

Plot – Writer Catherine Tramell has moved to London after some previous problems with the law in Los Angeles, but in the British capital she gains the British police's attention too. Scotland Yard in fact tasks criminal-psychologist Andrew Glass to trace her profile, but the doctor is seduced by the perverse game of the writer and will be her last victim.
All actors – Stan Collymore, Sharon Stone, Neil Maskell, David Thewlis, Jan Chappell, David Morrissey, Terence Harvey, Hugh Dancy, Ellen Thomas, Mark Sangster, Tim Berrington, Indira Varma, Charlotte Rampling, Heathcote Williams, Flora Montgomery, Kata Dobó, Iain Robertson, Charlie Simpson, Danielle Lydon, Christopher Brand, Charlotte Purton, Adam Allfrey, Vee Vimolmal, Simon Lenagan, Clair Tebbut, Aisling O'Neill, Elizabeth Adamczyk, Alex Argenti, Andy Callaghan, Robert Clarke, Robyn Cooper, Scott Davidson, Robert Dearle, Timo Gilbert, Martin Heathcote, Keith How, Sid Karne, João Costa Menezes, Shane Nolan, Peter Rnic, Peter Smith, Alexandra Staden
show all
"Basic Instinct 2" Quotes 4 quotes
"You know what I like about you? You enjoy being in control. Like me."




"The beauty about antisocial behavior is that it takes you away from other people, however briefly."




Nick used to say: "Death is always there. It's the only thing that's real". Except maybe sex sometimes.