"Go West" quotes
(1940)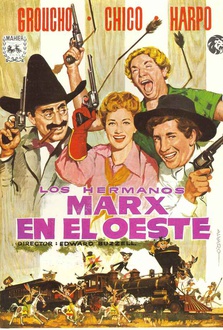 Title Go West
Year 1940
Director Edward Buzzell
Genre Comedy, Musical, Western

Plot – Panella brothers go to the Far West to participate to the gold rush and get rich. There they buy for few dollars an arid and worthless land, called "The valley of death". Both seller and buyers ignore it will be crossed by a railway line and the value will skyrocket. Unfortunately a shady businessman knows it and manages to trick the brothers.
All actors – Groucho Marx, Chico Marx, Harpo Marx, John Carroll, Diana Lewis, Walter Woolf King, Robert Barrat, June MacCloy, George Lessey, Iris Adrian, Barbara Bedford, Clem Bevans, Lee Bowman, Frederick Burton, Edgar Dearing, James Dime, Al Duvall, Edward Gargan, Mary Gordon, Lew Harvey, Edward Hearn, Arthur Housman, Mitchell Lewis, Jack Low, Slim Lucas, Tully Marshall, Bob Priester, Baby Quintanilla, Henry Sylvester, Harry Tyler, Fred Warren, Billy Wayne, Harry Wilson, Joan Woodbury, Joe Yule
show all
"Go West" Quotes 6 quotes
"I'm not in business for love, you know. I was in love once and I got the business."




"You must fan the flames of love with the bellows of indifference."


"There's only one law in the West: the law of blood and bullets. It's either shoot or be shot."


- "Red" Baxter: I don't like your faces.
- S. Quentin Quale: I suppose you think we like them.