"Top Hat" quotes
(1935)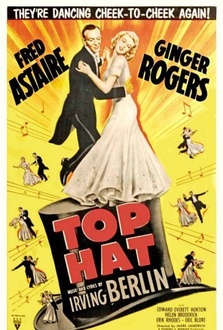 Title Top Hat
Year 1935
Director Mark Sandrich
Genre Comedy, Musical, Romance

Plot – Famous dancer Jerry Travers and his manager Horace Hardwick are going to the Lido of Venice to join Horace's wife Madge and a young friend of hers, Dale Tramont. Before leaving London, however, they meet Dale without knowing who she really is and Jerry courts her. Once in Venice, a misunderstanding leads Dale to believe that Jerry is the husband of her friend and, outraged, she rejects him and quickly marries Alberto Beddini, an Italian tenor. Meanwhile, Madge punishes her husband, considering him guilty of harassing her friend. Other comical incidents follow and the final clarification arrives when we learn that Dale's marriage is invalid, because the "pastor" who celebrated the ceremony was none other than Horace's waiter. Dale and Jerry finally find love and can get married.
All actors – Fred Astaire, Ginger Rogers, Edward Everett Horton, Erik Rhodes, Eric Blore, Helen Broderick, Robert Adair, Lucille Ball, Tito Blasco, Tom Brandon, Roy Brent, Phyllis Coghlan, Gino Corrado, Tom Costello, Jack Geiger, Charlie Hall, Peter Hobbes, Ben Holmes, John Impolito, Lora Lane, Frank Mills, Henry Mowbray, Leonard Mudie, Edgar Norton, Dennis O'Keefe, Tom Ricketts, Rita Rozelle, Genaro Spagnoli, Mary Stewart, Anya Taranda, Nick Thompson
show all
"Top Hat" Quotes 10 quotes
"- Jerry Travers: I'm sorry! I didn't realize I was disturbing you. You see, every once in a while I suddenly find myself... dancing.
- Dale Tremont: Oh, I suppose it's some kind of an affliction."


"- Dale Tremont: Madge, have you any objections if I scare your husband so that he'll never look at another woman?
- Madge Hardwick: Dale, no husband is ever too scared to look."


"My dear, when you're as old as I am, you take your men as you find them - if you can find them."

"All is fair in love and war, and this is revolution!"




"Never again will I allow women to wear my dresses!"


"How could I have ever fallen in love with a man like you?"

"- Jerry Travers: She's been mistaking me for you this whole time.
- Madge Hardwick: Well, no wonder she said he was interesting."

"In dealing with a girl or horse, one just lets nature take its course."




Sic transit gloria mundi. "Thus passes the glory of the world".