"Raise the Titanic" quotes
(1980)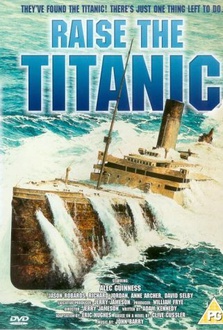 Title Raise the Titanic
Year 1980
Director Jerry Jameson
Genre Drama, Thriller, Adventure, Action

Plot – United States find a rare mineral dated back to 1910 on an arctic island and think to use it in a nuclear defense project, but the deposits are finished and the Russians are interested in the mineral too. Both discover the mineral has sunk along with the Titanic.
All actors – Jason Robards, Richard Jordan, David Selby, Anne Archer, Alec Guinness, Bo Brundin, M. Emmet Walsh, J.D. Cannon, Norman Bartold, Elya Baskin, Dirk Blocker, Robert Broyles
show all
"Raise the Titanic" Quotes 7 quotes
"- John Bigalow: I've had a few ships shot out from under me. More than my share. Three in the 1914-18 fracas, and two in 39-45. But all anybody ever asks me about is the Titanic.
- Dirk Pitt: And now I'm doing the same thing.
- John Bigalow: And you're lucky you came to the right man!"


"I'm a dynamite fisher-person. I just can't put the wormy on the hooky."




"You want to talk about distress, we have Navy weather forcasting a Force 12 storm, we have Russians looking down our throats and we are on a ship that never learned to do anything but sink, that's distress."


"If anything goes wrong, we lose two men and if we don't do anything we lose them anyway. They've got two chances to die and one to live."


"- Dirk Pitt: You don't look like a scientist.
- Dr. Gene Seagram: What's a scientist supposed to look like?
- Dirk Pitt: I don't know... but if I saw you on the street I'd probably take you for a country club tennis pro. I'd never take you for a scientist.
- Dr. Gene Seagram: Well that makes us even. I'd never take you for a pirate."


"What a lovely thing she was... Standing as high in the water as one of your skyscrapers, longer than two rugby fields, and furnishings to match the finest mansions in England. She was one of a kind, no question about it, and God himself, they said, couldn't sink her. Then in two hours she was gone... and fifteen hundred souls with her."

- Dirk Pitt: I knew a girl once.
- Dr. Gene Seagram: I'll bet you did.
- Dirk Pitt: Years later I ran into her again, she says "What happened to you? I thought you were going to change the world".
- Dr. Gene Seagram: What'd you say?
- Dirk Pitt: I said they had me outnumbered.