"The Jungle Book 2" quotes
(2003)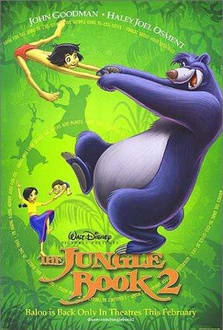 Title The Jungle Book 2
Year 2003
Director Steve Trenbirth
Genre Musical, Adventure, Family, Animation

All actors – John Goodman, Haley Joel Osment, Mae Whitman, Connor Funk, Bob Joles, Tony Jay, John Rhys-Davies, Jim Cummings, Phil Collins, Jeff Bennett, Veena Bidasha, Brian Cummings
show all
"The Jungle Book 2" Quotes 7 quotes
"In case you haven't noticed, kid, I'm no wild animal. Except at parties."


"- Mowgli: Oh, Baloo! I don't ever wanna see that girl or that village again.
- Baloo: Well, of course you don't. It's just us bears from here on in.
- Mowgli: Yeah, man."


"I never knew where I came from. But I always knew where I belonged."




"Not everyone can be born with such great looks."




You want quiet, go back to that man village. This place is "happening".