"Ava" quotes
(2020)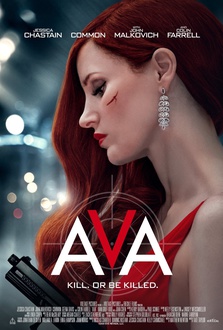 Title Ava
Year 2020
Director Tate Taylor
Genre Drama, Crime, Action

Plot – Ava is a 2020 American action thriller film following Ava Faulkner, a recovering addict and former soldier turned a professional deadly and cold-blooded assassin who works for a black ops organization. But she starts to feel guilt and this gets in the way of her work because she continues to make mistakes and botch operations. Now her superiors believe that Ava's questioning of targets demonstrates insufficient commitment to their operations as she is breaking the protocol.
All actors – Jessica Chastain, John Malkovich, Common, Geena Davis, Jess Weixler, Ioan Gruffudd, Diana Silvers, Joan Chen, Colin Farrell, Efka Kvaraciejus, Christopher J. Domig, Michel Muller, Dieter Riesle, Aramis Merlin, Michael Guarnera
show all
"Bobbi-Your hair looks terrible.
Ava-Thank you.
Bobbi-Well, it just sits there like, meh. You could wear it with some style. You're not in the army anymore.
Ava-Well, I don't have anyone to impress."


"Ava-Well, I don't know when you did it, but I know you did something, Peter.
Peter-What are you talking about?
Ava-Why would someone not want you to be alive anymore?"

You know, if you modernize it, what Croesus actually said is, "Count no man happy until he's had a good death." I genuinely try to give my subjects a good death when I can. But I can't do that unless I know what you did.