"D.E.B.S." quotes
(2004)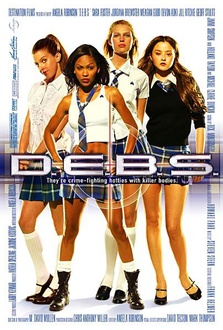 Title D.E.B.S.
Year 2004
Director Angela Robinson
Genre Comedy, Romance, Action

Plot – Recruited by the US Government for their ability to cheat, lie and fight, four beautiful girls are trained in a paramilitary academy to become secret agents to save the world without ruining their make-up. Their goal is finding a criminal as provocative and dangerous as them.
All actors – Sara Foster, Jordana Brewster, Meagan Good, Devon Aoki, Jill Ritchie, Geoff Stults, Jimmi Simpson, Jessica Cauffiel, Christina Kirk, Holland Taylor, Michael Clarke Duncan, J.B. Ghuman Jr.
show all
"D.E.B.S." Quotes 7 quotes
- Mrs. Petrie: Amy, I think you identify with Lucy Diamond. I think she sees your pathos. You've got some dangerous union symbiosis going on. What's that movie with Jodie? And the little dog falls in the well with the lotion?
- Madeline: "Silence of the lambs".
- Mrs. Petrie: You're the lamb, Amy.


"Are you kidding me? We conduct a nationwide manhunt for you and you're boning the suspect? Did you think this was a joke?"


"I think love should be irresistible, like a drug, you know? I think when it happens you should just not be able to help yourself."




"Look, let's just pretend that we're in Barcelona, and you're in art school, and I'm renting sailboats to tourists, and no one's a super hero and no one's a villain, we're just us."


"You can't decide matters of the heart. It is madness to try."




- Max: Who's your best friend?
- Amy: You are my best friend.
- Max: And what did I say to you the very first day at the Academy?
- Amy: "That's my bunk, bitch".


"Let's divert federal resources and man hours so I can have my collegiate lesbian fling in style".