"Twice Upon a Time" quotes
(1983)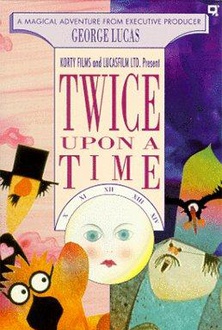 Title Twice Upon a Time
Year 1983
Directors John Korty, Charles Swenson
Genre Comedy, Adventure, Family, Fantasy, Animation, Action

All actors – Lorenzo Music, Judith Kahan, Marshall Efron, James Cranna, Julie Payne, Hamilton Camp, Paul Frees, Gillian Gould, Geraldine Green, Larry Green, William Hall, David Korty
show all
"Twice Upon a Time" Quotes 8 quotes
"Happy as rats they are. They tap dance not, neither do they fart."

"- Flora: Uncle Greenie, where are you?
- Greensleeves: Under the door, ya twit!
- Rod Rescueman: That's a pretty stupid place to be when people are knocking doors down!"


"- Rod Rescueman: I'm a super hero!
- The Fairy Godmother: You're kidding
- Rod Rescueman: I'm actually not a full fledged one, I'm on my learner's permit but that's almost as good."


"Call me F.G.M. I hate excess verbiage."


- Botch: They love to be friendly except they rush around so much, they don't have the time to be friendly.
- Ralph: The "what" don't they?
- Botch: The time. They have clocks and watches on their wrists which tell them the time they don't have because they are always rushing.