"The Brave Little Toaster" quotes
(1987)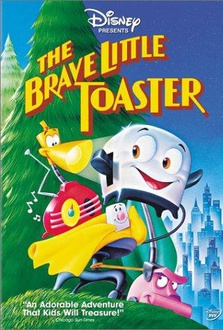 Title The Brave Little Toaster
Year 1987
Director Jerry Rees
Genre Comedy, Musical, Adventure, Family, Fantasy, Animation

Plot – Five appliances, bored to death by the absence from home of their master, leave in search of him led by a small toaster. A pleasant cartoon taken from a novel by Thomas M. Dish, a famous science fiction writer.
All actors – Jon Lovitz, Timothy Stack, Timothy E. Day, Thurl Ravenscroft, Deanna Oliver, Phil Hartman, Joe Ranft, Judy Toll, Wayne Kaatz, Colette Savage, Mindy Sterling, Jim Jackman
show all
"The Brave Little Toaster" Quotes 9 quotes
"- Toaster: If a dog can do it, we can do it!
- Blanky: But a dog has legs.
- Toaster: Ah, don't be a wet blanket."


"I've always loved travel anyway: the open road, the smell of the wind in my face, the flies clogging up my grill."


"- Lampy: Legs would help, you know.
- Kirby: Brains wouldn't hurt either."


"- Blanky: Help me! I'm stuck!
- Toaster: I hear him.
- Lampy: I don't see him anywhere.
- The Radio: Maybe he's calling from Blanket Heaven. He's a white, fluffly little angel with a knob-nose."


"- Air Conditioner: We've been dumped! Abandoned!
- Blanky: But he loved us.
- The Radio: That's right.
- Air Conditioner: So what? He's a kid. He has a family. They move away, he moves away. It's a packaged deal."


"- The Radio: Things could be worse, you know.
- Lampy: How?
- The Radio: How what?
- Lampy: How could they be worse?
- The Radio: They couldn't; I lied."


"- Blanky: Do we have to stop here?
- Toaster: Only for a while.
- The Radio: Just long enough to lose our minds! We'll be cannibals within a few days, I've seen it happen!
- Kirby: And you'll be the first to go, dial-face."


"- Lampy: You were never this nice to him before, and all of a sudden now you're nice to him all the time, and I don't know. I'm, uh, I'm just trying to understand, trying to figure out what it all means.
- Toaster: Well, it's kind of hard to describe. It's like being next to a new loaf of bread."

I remember the first time my bulb burned out. And I thought, "That's it! I'm burnt out! Eighty-sixed! To the showers!". But then the master gave me a brand new bulb... and I just glowed.