"Stranger on the Third Floor" quotes
(1940)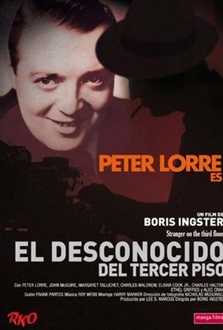 Title Stranger on the Third Floor
Year 1940
Director Boris Ingster
Genre Drama, Crime, Film-Noir

Plot – A journalist is the protagonist of two different situations. Firstly he convicts an accused with his testimony, then he's blamed for a murder committed in his building. Only his girlfriend believes him.
All actors – Peter Lorre, John McGuire, Margaret Tallichet, Charles Waldron, Elisha Cook Jr., Charles Halton, Ethel Griffies, Cliff Clark, Oscar O'Shea, Alec Craig, Otto Hoffman, Bobby Barber
show all
"Stranger on the Third Floor" Quotes 7 quotes
- Michael "Mike" Ward: He's a worm - the kind you ought to jump on with heavy boots.
- Martin: You'll have to do an awful lot of jumping. The Earth is covered with them.

"I wouldn't let him defend me if it was for stealing an apple."

"Has there ever been any insanity in your family?"

"Maybe you're right. As you pointed out, there are certain similarities between the two crimes, but you missed perhaps the most important: both murders were discovered by the same man - you!"

- Michael "Mike" Ward: What if she's right - he didn't do it, and they give him the chair?
- Martin: Suppose they do? What difference does it make? There's too many people in the world anyway.


- Michael "Mike" Ward: What's the use of talking to you? You think everything's a joke.
- Martin: It is. If it weren't, life wouldn't be worth living.