"The Langoliers" quotes
(1995)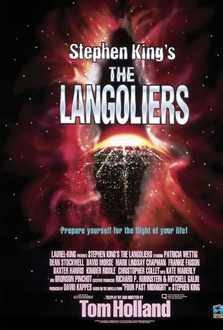 Title The Langoliers
Year 1995
Genre Sci-Fi, Horror, Thriller, Mystery

All actors – Tom Holland, Patricia Wettig, Kate Maberly, Mark Lindsay Chapman, Julie Arnold Lisnet, Frankie Faison, Baxter Harris, Michael Louden, Christopher Collet, Kymberly Dakin, Kimber Riddle, David Morse
show all
"The Langoliers" Quotes 8 quotes
"An aurora over the desert. That strengthens my point. If we were to fly into that, and it was a time-rip then that means we're no longer in our own time, ladies and gentlemen."




"- Craig Toomy: I have an important meeting in Boston at nine o'clock! And I forbid you... from flying to some whistle-stop Maine airport! Do you hear me?
- Laurel Stevenson: Can you please quiet down? You're scaring the little girl.
- Craig Toomy: Scaring the little girl? Scaring the little glirl? Lady! We've been diverted to some tin... pot..."

(continue)

(continue reading)

"- Bob Jenkins: Let's say that every now and then a hole appears in the stream of time. Not a time-warm. A rip. A time rip. A rip in the central fabric.
- Don Gaffney: That's the craziest thing I ever heard of!"


"- Bob Jenkins: Let's say that such rips do occur every now and then. It would be similar to rare weather phenomenons that are reported. Upside-down tornadoes, circular rainbows, daytime starlight.
- Brian Engle: The aurora borealis.
- Bob Jenkins: What?
- Brian Engle: There was an aurora borealis over the Mojavi Desert when we left L.A.X."


"The bottom line is, I believe, that we have hopped an absurdly short distance into he past. Say as little as 15 minutes and we're discovering the unlovely truth about time travel."


- Nick Hopewell: Do you ever watch Mr. Spock on "Star Trek"?
- Craig Toomy: What the hell are you talking about?
- Nick Hopewell: Just if you don't shut your cakehole, you bloody idiot, I'll be happy to demonstrate his Vulcan sleeper-hold for you.