"Paul Blart: Mall Cop" quotes
(2009)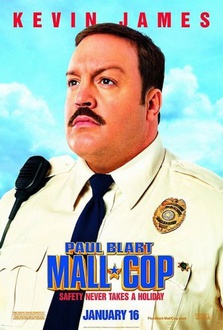 Title Paul Blart: Mall Cop
Year 2009
Director Steve Carr
Genre Comedy, Crime, Action

All actors – Kevin James, Keir O'Donnell, Jayma Mays, Raini Rodriguez, Shirley Knight, Stephen Rannazzisi, Peter Gerety, Bobby Cannavale, Adam Ferrara, Jamal Mixon, Adhir Kalyan, Erick Avari
show all
"Paul Blart: Mall Cop" Quotes 9 quotes
"What are you trained to do? Nothing..."

"No one wins with a headbutt."




"It's like my mother always said, if you want something done right, waste them yourself. I'm paraphrasing, but you get the idea."


"- Paul Blart: This lemonade is insane!
- Vijay: That's because it's a Margarita, Paul."


"If you remember one thing from today, it's this: the mind is the only weapon that doesn't need a holster."


- Maya Blart: Okay, next question. "Tell me about yourself".
- Paul Blart: Let's see. I know a lot about sharks.
- Mom: Let me stop you right there.

- Veck Sims: When are you gonna give up, Blart?
- Paul Blart: How about now? I'll meet you on the corner of "Ne" and "Ver"!