"Cop Out" quotes
(2010)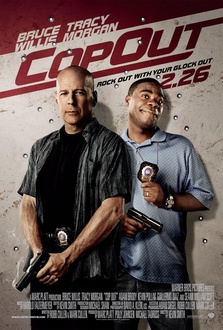 Title Cop Out
Year 2010
Director Kevin Smith
Genre Comedy, Crime, Action

Plot – Two New York police officers investigate about a stolen precious baseball card. They will receive the help of a beautiful Mexican girl.
All actors – Bruce Willis, Tracy Morgan, Juan Carlos Hernández, Cory Fernandez, Jason Hurt, Jeff Lima, Sean Cullen, Kevin Pollak, Adam Brody, Guillermo Díaz, Alberto Bonilla, Robinson Aponte
show all
"Cop Out" Quotes 13 quotes
"Captain, your heart. It's an ice box."

The big brown shark is gonna to come. I set records for my shit turds. I move my bowels all over my toilet. All over my bathroom, I'm moving bowels. I shit so hard sometimes, people next door will be like, "Warriors, come out and play".




- Paul: Happy anniversary Jim.
- Jimmy: I don't celebrate anniversaries.
- Paul: Jim, open it up. I wanna see the expression on your face.
- Jimmy: You wanna see the expression on my face? The expression you're gonna see on my face is "fuck you".


- Paul: Why did you smack me?
- Jimmy: I was in the moment and the moment said "smack ya".


"I just wanna get you pregnant, you know? My daughter gonna come out like 11 pounds , twenty ounces, running, around the house with the doo doo pampers on!"


"- Jimmy: You ready?
- Paul: I'm ready. Let's go be great!
- Jimmy Monroe: Do you ever listen to yourself sometimes?"


"This is the stuff that my mom would tell friends about me, 'My son is genius, my son is a genius'."


"You're a compendium of fucking useless information."

"That's called parkour. It's a French martial art to get you around and over stuff."




"- Paul: Oh, shit. He's taking a shit in the house.
- Jimmy: What kind of guy takes a shit in the same house that he's robbing?
- Paul: I don't know. What kind of guy takes a shit in a high-pressure situation like this? I'm not shitting no where except for my house."


- Paul: You know, the bonobo chimpanzee is the only non-human primate that has oral sex?
- Jimmy: Where do you find the time to watch "Animal Planet"? I'm with you 25 hours a day!
- Paul: [Pointing to head] I have to feed this. I have to feed this.