"Serial Mom" quotes
(1994)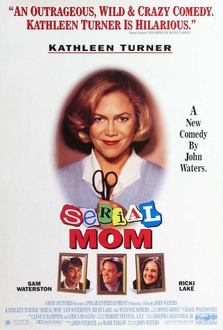 Title Serial Mom
Year 1994
Director John Waters
Genre Comedy, Crime, Thriller

Plot – Beverly is a 40-year-old woman happily married to a dentist. They live in Baltimore with a daughter and a son, Misty and Chip. However, the woman shows hints of insanity: she stalks the neighbor that once took her place in the parking and she runs Chip's teacher over after he suggested to take the kid to a psychotherapist because of his obsession with horror movies. It is the beginning of an escalation that makes Beverly kill Carl - Misty's unfaithful boyfriend - in a shopping mall's toilet. While the police has valid proves, the family is worried.
All actors – Kathleen Turner, Sam Waterston, Ricki Lake, Matthew Lillard, Scott Morgan, Walt MacPherson, Justin Whalin, Patricia Dunnock, Lonnie Horsey, Mink Stole, Mary Jo Catlett, John Badila
show all
"Serial Mom" Quotes 5 quotes
- Chip: Mom, are you a serial killer?
- Beverly R. Sutphin: The only "serial" I know anything about is Rice Krispies.