""Crocodile" Dundee" quotes
(1986)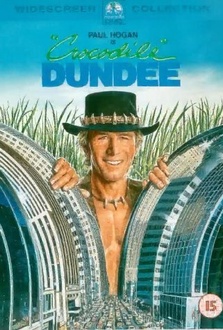 Title "Crocodile" Dundee
Original title Crocodile Dundee
Year 1986
Director Peter Faiman
Genre Comedy, Adventure

Plot – Sue, a young journalist, must wirte a piece about an Australian crocodile hunter, who now is the owner of an agency specialized in adventurous holidays. The woman, after facing the risks of the Australian nature with the hunter, convinces him to follow her to New York, where he becomes very famous indeed.
All actors – Paul Hogan, Linda Kozlowski, John Meillon, David Gulpilil, Ritchie Singer, Maggie Blinco, Steve Rackman, Gerry Skilton, Terry Gill, Peter Turnbull, Khristina Totos, Graham 'Grace' Walker, David Bracks, Brett Hogan, Mark Blum, Michael Lombard, Irving Metzman, Reginald VelJohnson, Rik Colitti, John Snyder, J.J. Cole, Gwyllum Evans, Clarie Hague, Jan Saint, Peter Bucossi, Sullivan Walker, Bobby Alto, Anne Carlisle, Anne Francine, Paige Matthews, Paul Greco, Caitlin Clarke, Nancy Mette, Barry Kivel, Tony Holmes, Dan Lounsbery, Dolores Messina, Yvonne Erwin, Christopher Lockhart, Joe Pentangelo, David Trim
show all
""Crocodile" Dundee" Quotes 6 quotes
"If I give my heart to you, I'll have none and you'll have two."

"- Richard Mason: Take care now.
- Sue Charlton: Don't worry. I'm a New Yorker!"


"- Neville Bell: Oh no, you can't take my photograph.
- Sue Charlton: Oh, I'm sorry, you believe it will take your spirit away.
- Neville Bell: No, you got lens-cap on it."


- Sue Charlton: That croc was going to eat me alive.
- Michael J. "Crocodile" Dundee: Well, I wouldn't hold that against him. Same thought crossed my mind once or twice.