"Friday the 13th Part III" quotes
(1982)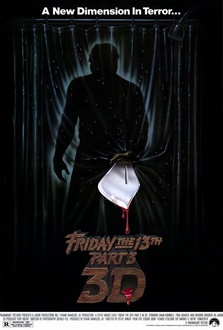 Title Friday the 13th Part III
Year 1982
Director Steve Miner
Genre Horror, Thriller

Plot – Some young guys spend the weekend on an isolated cabin where two years before a girl suffered a terrible experience. The maniac is actually still alive and wanders around the cabin to kill anyone he meets. The psychopath kills one by one the guys with the most various and ferocious means. Moreover he vents his madness on other three thugs. The owner of the cabin is the only one who saves herself as she has already met the monster and manages to kill him again, however her mind is upset forever.
All actors – Terry Ballard, Richard Brooker, Gloria Charles, Anne Gaybis, Rachel Howard, David Katims, Dana Kimmell, Paul Kratka, Cheri Maugans, Terence McCorry, Charlie Messenger, Kevin O'Brien
show all
"Friday the 13th Part III" Quotes 8 quotes
"- Debbie: Chris? I don't mean to be picky or anything, but where's the bed? Chris?
- Chris: Oh. It's right here.
- Debbie: What's this?
- Chris: It's your bed.
- Debbie: A hammock?
- Chris: You might like it."

"- Andy: How do we do it?
- Debbie: First we take our clothes off, and then you get on top of me or I can get on top of you.
- Andy: I know how to do it. I mean, how do we do it in a hammock?
- Debbie: I think you can figure something out.
- Andy: I'll think of something!"


"- Chris: Shelly, why aren't you at the lake with everybody else?
- Shelly: They said they were going skinny-dipping. I'm not skinny enough."


"- Andy: Goddammit, Shelly, why do you always have to be such an asshole?
- Shelly: Sorry. And I'm not an asshole, I'm an actor.
- Andy: Same thing."


"- Chuck: How come you never scream when we have sex?
- Chili: Give me something to scream about."


"- Chris: Hi, Mrs. Sanchez. I'm Chris. We've come to pick up Vera.
- Mrs. Sanchez: She is not going!
- Chris: What are they saying?
- Debbie: I don't know. I flunked Spanish."

- Shelly: Oh, shit.
- Vera: "Oh, shit" is right! Let's get outta here!