"Jeepers Creepers 2" quotes
(2003)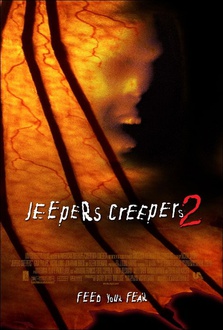 Title Jeepers Creepers 2
Original title Jeepers Creepers II
Year 2003
Director Victor Salva
Genre Horror

Plot – A college basketball team gets into trouble. The players are traveling with the cheerleaders and the coaches on the unfortunate East 9 Highway in Poho County. Their bus has been sabotaged by a devilish creature and the adults are killed one by one. The students are blocked in the vehicle and try to defend themselves against the supernatural creature.
All actors – Ray Wise, Jonathan Breck, Garikayi Mutambirwa, Eric Nenninger, Nicki Aycox, Travis Schiffner, Lena Cardwell, Billy Aaron Brown, Marieh Delfino, Diane Delano, Thom Gossom Jr., Tom Tarantini
show all
"Jeepers Creepers 2" Quotes 7 quotes
"Throw that damn thing away before you need a tetanus shot!"

"- Jack Taggart Sr.: Are there any landmarks nearby? What are you close to?
- Andy 'Bucky' Buck: I'm close to pissing my fuckin' pants!"


"Why do I think you want to call me something else? You want to call me something else, Scotty? I can see you thinking it, whether you say it or not."

"- Dante Belasco: Maybe it only opens from the outside.
- Jake Spencer: It's an Emergency Exit, idiot!"

Two classes of people? What, the "will be eaten" and the "won't be eaten"?