"Jules and Jim" quotes
(1962)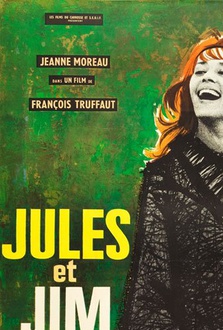 Title Jules and Jim
Original title Jules et Jim
Year 1962
Director François Truffaut
Genre Drama, Romance

All actors – Jeanne Moreau, Oskar Werner, Henri Serre, Vanna Urbino, Serge Rezvani, Anny Nelsen, Sabine Haudepin, Marie Dubois, Michel Subor, , Danielle Bassiak, Elen Bober, Pierre Fabre, Dominique Lacarrière, Bernard Largemain, Kate Noelle, Jean-Louis Richard, Michel Varesano, Christiane Wagner
show all
"Jules and Jim" Quotes 5 quotes
"Catherine's maxim is: At least one party in a relationship must be faithful. The other party."




"- Jules: Catherine never does anything halfway. She's an irresistible force that can't be stopped. Her harmony is never shaken because... she knows she is always innocent.
- Jim: You speak of her as if she was a queen.
- Jules: She is a queen. Let me be frank. She's not especially beautiful or intelligent or sincere... but she is a real woman...."

(continue)

(continue reading)




You said, "I love you." I said, "Wait." I was about to say, "Take me." You said, "Go away."