"Pay It Forward" quotes
(2000)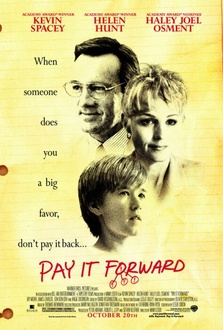 Title Pay It Forward
Year 2000
Director Mimi Leder
Genre Drama

Plot – The homework that Eugene, a social studies teacher, gives his middle school students is worthy of a dissertation or the Nobel Peace Prize: think of a way to change the world and put it into practice. Trevor gives it a try. The boy's family life is not entirely rosy: his father is away and his mother Arlene has two jobs, drinks too much and her hair is always in a mess. Trevor proposes that everyone should do three favors to three different people who, in turn, must repay the good deed by passing it along to three more people.
All actors – Kevin Spacey, Helen Hunt, Haley Joel Osment, Jay Mohr, Jim Caviezel, Jon Bon Jovi, Angie Dickinson, David Ramsey, Gary Werntz, Colleen Flynn, Marc Donato, Kathleen Wilhoite, Liza Snyder, Jeannetta Arnette, Hannah Werntz, Tina Lifford, Loren D. Baum, Nico Matinata, Zack Duhame, Shawn Pyfrom, Alexandra Kotcheff, Bradley White, Christi Colombo, Phillip D. Stewart, Justin Parsons, Myeshia Dejore Walker, Brenae Suzanne Davey, Molly Kate Bernard, Andrew Patrick Flood, Tameila N. Turner, Julian Correa, Carrie Ann Sullivan, Patricia Deanda, Ryan Berti, Gabriela Rivas, Carrick O'Quinn, Stephanie Feury, Bernard White, Tom Bailey, Tim De Zarn, Jonathan Nichols, Ron Keck, John Powers, Bob McCracken, Frank Whiteman, Eugene Osment, Kendall Tenney, Sue Tripathy, Rusty Meyers, Leslie Dilley, Cynthia Ettinger, Joe Rampino, Stacy Bellew, Johnny Drocco, Jeremy Dunn, Sebastian Feldman, Ian Hodgkinson, Ryan Keating, Lana Kinnear
show all
"Pay It Forward" Quotes 7 quotes
"- Arlene McKinney: So, is that all you want? Your goddamn manageable day?
- Eugene Simonet: It's what I have.
- Arlene McKinney: No, it isn't.
- Eugene Simonet: It is what I've always had.
- Arlene McKinney: Is it what you want?"


"- Trevor McKenney: Are you saying you'll flunk us if we don't change the world?
- Eugene Simonet: Well, no. But you might just scrape by with a C."


"Is the world just shit?"




"- Chris Chandler: Is that what you want for your birthday? Everybody to pay it forward?
- Trevor McKinney: I can't ask for that.
- Chris Chandler: Sure you can. Why not?
- Trevor McKinney: It wouldn't work.
- Chris Chandler: Why?
- Trevor McKinney: I already blew out my candles."


- Trevor McKinney: Were you just being nice?
- Eugene Simonet: About what?
- Trevor McKinney: About my idea. Do you think it's good, or were you just being teachery?
- Eugene Simonet: "Teachery"?
- Trevor McKinney: Bullshitting.