"Avalon" quotes
(1990)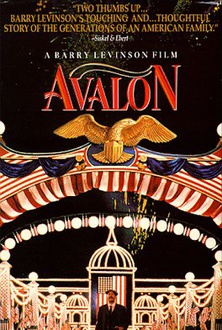 Title Avalon
Year 1990
Director Barry Levinson
Genre Drama

Plot – Sam Krichinsky is a Jew guy who emigrates to USA from his native Poland in 1914. He settles in Baltimore and works as upholsterer and soon he's reached by his numerous relatives. After some years, Sam moves with his wife Eve, while his son Jules and his daughter-in-law Anna have a child, Michael. The whole family meets often and none of them misses a Thanksgiving Day ever. When Eve dies, Sam moves to a hospice and he's visited by Michael, who now is an adult and introduces his son to his grandfather. The child's name is Sam like the first Krichinsky family member.
All actors – Leo Fuchs, Eve Gordon, Lou Jacobi, Armin Mueller-Stahl, Elizabeth Perkins, Joan Plowright, Kevin Pollak, Aidan Quinn, Israel Rubinek, Elijah Wood, Grant Gelt, Mindy Loren Isenstein
show all
"If I knew things would no longer be, I would have tried to remember better."




"I came to America in 1914 - by way of Philadelphia. That's where I got off the boat. And then I came to Baltimore. It was the most beautiful place you ever seen in your life. There were lights everywhere! What lights they had! It was a celebration of lights! I thought they were for me, Sam, who was in America. Sam was in America! I didn't know..."

(continue)

(continue reading)




"It's not an argument, it's dinner talk."




"Who said names were supposed to be easy to say? What are you, a candy bar?"




"Where are the people who know where the people are?"

In the old days, if you had to pee, you peed on a tree - with no "may" or "can". That's progress.