"Iron Eagle" quotes
(1986)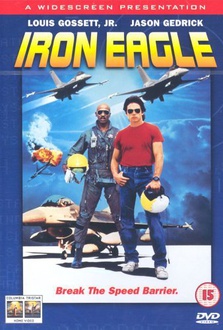 Title Iron Eagle
Year 1986
Director Sidney J. Furie
Genre Thriller, War, Action

Plot – Doug is the son of Fred Masters, a US Air Force colonel, and he's passionate about his father's job. He's not yet a student at the Academy but he manages to go with Fred in reconnaissance missions. He's a very skilled pilot indeed and when his father gets lost in the Middle East, Doug borrows an F-16 to pilot it to free his father.
All actors – Louis Gossett Jr., Jason Gedrick, David Suchet, Larry B. Scott, Caroline Lagerfelt, Jerry Levine, Robbie Rist, Michael Bowen, Robert Jayne, Melora Hardin, David Greenlee, Michael Alldredge
show all
"Iron Eagle" Quotes 8 quotes
"What is it with you, Knotcher? Can't you make it through a day without proving what an asshole you are?"

"- Doug Masters: What's the matter, don't you feel like flying today?
- Reggie: Oh flying, yes. Dying, no."

- Doug Masters: Anyone ever tell you that you talk too much?
- Col. Charles "Chappy" Sinclair: Yeah, my ex-wife.


- Col. Charles "Chappy" Sinclair: When it was all over, I promised myself I'd never be part of killing kids again. That's why it took me so long to come around to help you. Now it looks like I have us both trapped into something...
- Doug Masters: That could kill us?

- Doug Masters: They look about 15, 16-years-old.
- Col. Charles "Chappy" Sinclair: That's right. All of them.
- Doug Masters: So I don't know why you're so upset, Chappy. What makes them different than me?
- Col. Charles "Chappy" Sinclair: Because they're dead, all of them.